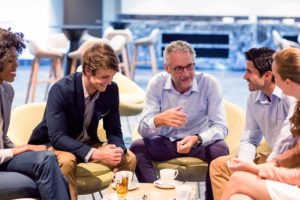 In a study of 400 companies with 100,000 employees, it was found that poor communication lead to an average loss of $62.4 million per company per year. Learning how to improve business communication is essential in this digital age, as it helps businesses connect and communicate with their employees and customers.
Do you want to learn how you can improve your business communication skills? Keep reading this article for the top six tips to have more effective business communication in the digital age.
1. Practice Listening
One of the most important things you can do to improve your business communication is to practice your listening skills. Listening is an important skill that helps you foster a relationship of trust with your clients as well as your employees.
Active listening also helps you learn more and find ways to improve your business. As you focus on improving your listening as part of your business communication, you will be able to be more successful and have better relationships.
Active listening also means that you need to turn off your inner dialogue. This way, you can focus on the person that is talking to you and you will retain more information.
To improve your listening skills, you can use nonverbal communication methods. These include good body language and eye contact, which show that you are engaged while someone is talking.
2. Connect With Customers
Next, you need to find ways to connect with your customers. When you are a business owner, you need your consumers to trust you and care about your business. When you connect with customers, they are more likely to become repeat customers and help your business grow.
It is also important that you learn to connect with the right people. As a business owner, you don't want to waste a lot of time and money trying to connect with people that are not interested in your products or services.
There are many tools that you can use to improve your business communication and to find ways to reach the right audience.
By carefully choosing your target audience, you will be able to find the right people for your messaging. This way, your communication will be much more effective and you will be able to have a higher conversion rate.
3. Think Visually
In the digital age, you need to learn how to adjust your business communication to fit the needs of your consumers. Because so much communication happens online, you must learn to think visually and not be too reliant on written communication.
The power of visual content is continually growing. People are regularly using infographics, images, and other visual methods of communication. While it is still beneficial to use written communication, like blog posts, people have a very limited amount of time to consume this information.
They want to get their information as efficiently as possible. Adding visual elements to your communication can help you communicate more effectively!
One easy way you can improve your visual communication is through social media. Creating social media channels and sharing helpful information is an easy way to engage with your target market.
4. Pause Before Replying
In a world of digital communication, everything happens instantly. When you are running a business, it is important that you take a break before responding to a message from an employee or customer.
This is especially important when you are dealing with an angry message. If you respond immediately, you may be more likely to react poorly and create a bigger issue.
Even if you aren't worried about reacting poorly, taking a moment before you reply will help you consider the information more carefully and will ensure that you craft a better response.
5. Encourage Sharing
Another important tip to improve your business communication is to focus on sharing. Encouraging your employees and customers to share will help them feel more valued and heard. Plus, they may have some great ideas to help you improve your business.
By helping your employees and customers get more involved, they will become more loyal to your business.
It is also important that you try to share your knowledge and resources with others. This can help you become a thought leader in your industry. Plus, providing free resources to your audiences will keep them coming back to you for more information in the future.
6. Invest in Solutions & Tools
Finally, it is important that you invest in technology solutions to help make your communication more efficient. For example, there are many platforms that allow you to instantly communicate with your employees or with your customers.
There are also many ways that you can collaborate on projects. With this collaboration program, you can keep an eye on progress and provide each other with feedback throughout a project.
You can also use other tools, like a consulting agency, to help your business improve. For example, if you are running a family business, you may need help passing your business to the next generation.
Working with an expert consulting agency will help you make this process more simple and efficient.
Learn More About Business Communication Solutions Today
What is business communication? It is something that every company needs to improve. Not only will it help you connect with your employees and customers, but it will also improve productivity and efficiency in the workplace.
If you are looking for business communication solutions, Positively People can help! We offer services to help with family business succession planning, executive secession planning, and more.
Contact our team today to learn more about family business consulting and how good communication can help you succeed.