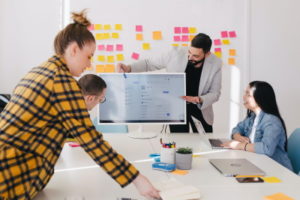 All aspects of continuity planning are essential, but effective nomination guidelines are a priority. Without a roadmap guiding you towards your best candidates, you could ultimately elect the wrong directors.
Your family business may take a wait-and-see approach, adopting reactive policies. Instead, it's best to be proactive with clearly defined guidelines. Our family business consulting firm has helped many companies in your current situation. Discover how Positively People offers reliable results with any continuity planning services.
Include Clear Goals During Continuity Planning
How can you choose the right candidate when you aren't sure what goals you need to accomplish? Many companies wait until after leadership positions are filled to define their goals.
You should take the opposite approach, where you base candidates on current visions. This allows you to choose people who offer the skills and experiences you need most. You also need to ensure that family governance boards outside the foundation stay informed. Otherwise, there could soon be a tug-of-war happening between the two sides.
Who Chooses the Potential New Candidates?
Another source of conflict can stem from deciding who selects which candidates. Will existing directors have a say, or will only family members decide?
Many firms rely on an independent committee to screen and identify possible frontrunners. That way, no one side sees an advantage over the other. Another factor to include is what type of director role to fill. Not all executives will be beneficial in specific areas of your brand.
What Characteristics Matter Most?
You may have found solid candidates for the position, but they may lack specific characteristics. Once in place, the rest of the board might feel resentful of their new role. Other executives may have the right experience but not enough exposure to the family's culture. That can lead to both sides splitting further from each other.
Family board members may not all have the same business education, but they should all have a say. This allows them to protect both the brand and their identity.
Who Will New Candidates Benefit Most?
Another pitfall of nominating new members is when you invest in only one side. It's vital to research every candidate and decide which one will benefit the family and the brand the most. We know that you can't always please everyone, but you can limit favoring one side. You'll have improved trust by remaining open, transparent, and clear about intentions.
Part of continuity planning is recognizing unfair advantages that can arise. That is why every member should be involved in the overall selection process.
Begin Continuity Planning with Our Family Business Advisory Firm
No decision can complicate matters quite like selecting new leaders for your company. The process can feel even more confusing when you introduce it to the family dynamic. Even the largest corporations find family business succession planning a long and exhausting process. Surprisingly, many won't get things right on the first try.
That doesn't mean that directors have to be frustrated. When you have expert advisors, family business succession becomes much easier. Positively People can help you with superior guidance towards new milestones and visions. Contact us today for a consultation.
Learn more about Positively People Services.