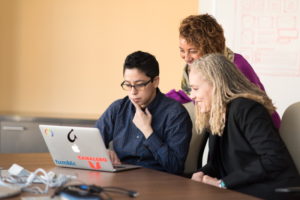 It's easy to lose count of how often we preach about diversifying assets and investments. Family governance groups should consider this concept also, because they can fall into the trap of including like minds only. Not only should you seek out different opinions but consider your structure as well. 
Your family business will need to find balance while favoring fresh ideas. It's one of the many reasons to hire us for continuity planning. Many organizations will maintain peace in lieu of seeing consistent growth. Learn how Positively People advisors provide effective family business succession planning.
Recognize the Value of Diversity
Some members view "diversity" as the family losing its identity. However, that doesn't have to be the case when you recognize the potential benefits. How often have organizations had unanimous votes but get lackluster results? Even if everyone agrees, it doesn't guarantee that the right choices are made.
As time passes, the family itself likely becomes more diverse through the generations. Shouldn't your family governance groups mirror these changes? Diversity can even look like family and non-family members joining forces. Seek out ways you can improve your board's talents with our advisors.
Adopt Policies That Encourage Diversity
Corporations have implemented many diversity-driven plans, but few see practical results. Some actions may even appear like a publicity stunt outside the organization. Meanwhile, some states and countries implement policies that try to include specific demographics. Most notably are mandates requiring a certain percentage of female board members or different ethnic groups.
Even if these kinds of laws don't exist in your community, consider adopting them. Just make sure you make decisions that improve the brand and not just generating publicity.
Welcome Social and Professional Diversity
Diversity doesn't only mean ethnic diversity or having a specific number of female additions. You'll also want to seek out skills that the current board members don't have. Some firms seem terrified of discourse happening, but it doesn't need to turn toxic. Introducing fresh ideas to a stale board can cause genuine innovation to occur.
Defining what "diversity" means can provide a much-needed insight that's currently missing from your organization. Consider what social and professional views might be lacking, such as:
Educational Backgrounds

Professional Fields

Generational Differences

Social Elements

Valuing Diverse Ideas

Cognitive Diversity

Unique Investment Opportunities

Acquisition Goals

Family Members

Non-Family Members
Don't Favor Tradition Over Innovation
Tradition and values play a significant role in charting a company's future. However, implementing the same ideas over and over rarely creates growth. As with any investment portfolio, you need to adopt emerging social changes. Maintaining the status quo only hinders progress as it silences other voices.
If you expect the family business to allow future generations, it has to remain relevant. How can you have new goals if the board stays the same? Family business succession should maintain a broad scope to seek out new ideas. Prevent your organization from becoming stagnant, and contact our advisors today.
Change Minds, Thoughts, and Behaviors
Another primary way that companies stop growing is by refusing behavioral changes. Some executives expect to rule without input from others and end up becoming a corporate dictatorship. Instead, developing a diverse range of ideas ensures traditions are challenged. Bringing in members from outside of the family may reveal what others don't see.
Too many boards often avoid candid discussions in fear of emotional outbursts. However, passion is what a lot of firms lack the most, especially with directors. Failing to challenge new ideas and old traditions will only breed complacency. Contact our family business consulting team and let us help you find your blind spots.
Keep Your Family's Board Diverse
Some companies think you have to have the same last name in order to lead a family business. No matter how important the family is to your brand, others outside of the immediate family should matter as well. Otherwise, you risk having your businesses become a cult of personality.
Diversifying the board ensures that your firm can endure for many generations. Contact our advisors when you aren't sure how to expand your vision effectively. Including others should help to introduce key abilities that are guaranteed to see growth. Positively People can help you expand what your brand can do. Contact us today to set up a consultation. Learn more about Positively People services.